OVERVIEW
Out of an extremely wide range of Mechanical Engineering disciplines,
the Department of Engineering Science and Mechanics emphasizes the following five research fields:
mechanics
Kinetic properties of vehicles and characteristics of two-phase flows
energy
Internal combustion engines, environmental energy sources and thermodynamic property on heat pumps
system engineering
Computer controls
metallic materials and machining for production
Materials science and machining technology (cutting and polishing)
mechanical designs
Computer aided design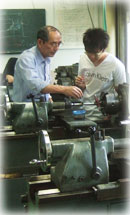 An important feature of the instructional system in this department is seminar format, limited to 6-7 members per seminar group.
In addition, a unique feature of the four-year program is that the entire curriculum is composed of materials related to thesis work.
This means the relations both professionally and personally
formed between professors and students become incredibly stronger. Such research activities, where students and professors perform as a closely-knit team, make it possible for students to make the best possible use of their college years.
Leisure activities such as soccer and softball between seminar groups, and study camps, have become yearly activities.
This department prides itself on its small-group learning methodology with an emphasis on
research activities and interaction with objects (machines and related phenomena). Consequently, addition to the special education in engineering, students acquire a wider perspective and sound human values through the invaluable, close contacts and
activities with professors.
CURRICULUM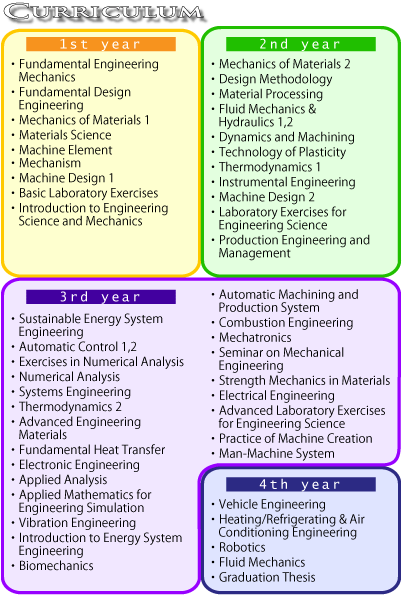 SEMINAR GROUPS
The Department of Engineering Science and Mechanics emphasizes hands-on experience. The ten laboratories in this department cover the main research fields of mechanical dynamics. We aim to foster engineers with the adaptable potential to meet the challenges they will encounter.
AOKI, Koshiro / Professor
1)

Development of high performance materials produced by repetitive side extrusion process

2)

Improvement of material properties by plastic deformation and heat treatment for stainless steel

3)

Development of nondestructive inspection method for hardness of austenitic stainless steel

4)

Surface qualities of work piece and behavior of lubricant in temper rolling
ONO, Naoki / Professor
1)

Evaporation and convective boiling phenomena in mini-micro channels

2)

Research and development of micro-fluidics systems (micro-mixers and micro-pumps)

3)

Fluid mechanics of flagellum's motions of micro organism

4)

Surface tension measurement of nonlinear thermocapillary fluids

5)

Numerical simulations of heat and mass transfer in micro-fluidics systems
SAITOH, Hiroyasu / Associate Professor
1)

Burnt gas jet ignition of liquid fuel sprays

2)

Combustion enhancement of liquid fuel sprays by hydrogen addition

3)

Research on liquid atomization and size measurements of sprays
TAKASAKI, Akito / Professor
1)

Development of hydrogen storage alloys

2)

Molecular dynamics simulation for hydrogen embrittlement

3)

Production of functional thin films
TANAKA, Kotaro / Professor
1)

Electrode kinetics and mass transport of alkaline metal thermal to electrical converter (AMTEC)

2)

Solar thermal and chemical hybrid solar collector systems
NAGASAWA, Sumito / Associate Professor
1)

Control system for micro-robots based on insect nervous system

2)

Intelligent micro sensors fabricated with MEMS/NEMS technologies

3)

Small actuator that is appropriate for micro-scale systems

4)

Smart micro structures that have mechanical-structural functions by themseleves

5)

Considering scaling effects from nano/micro scale to large/huge scale using simulations and real robots
HASHIMURA, Shinji / Professor
1)

Development of detection method for clamp force and clamped part stiffness for bolted joints

2)

Investigations of fatigue mechanism of nonferrous bolts

3)

Development of joining method for multi-materials using high speed nail

4)

Design method for bolted joints under multi-axial vibration

5)

Study of improvement of tightening methods for bolted joints
HIROSE, Toshiya /
Associate 
Professor
1)

Development of Driving Simulator (DS)

2)

Research for active safety technology using DS

3)

Evaluation of HMI (Human Machine Interface) for Automated Driving System

4)

Evaluation of driving assist system using DS

5)

Construction of high-accuracy map for automated driving of electric wheelchair
HOSOYA, Naoki / Professor
1)

Development of Experimental Modal Analysis with use of Rotational Degrees of Freedom

2)

Dynamic Characteristics of the Bended Thin Plate Structures

3)

Compensation of Additional Mass Effect in Frequency Response Function Measurement

4)

Vibration Testing by Using Laser Ablation

5)

Spatial Filter Design for Observation Spillover Suppression
MAEDA, Shingo / Associate Professor
1)

Design of active materials

2)

Design of micro / nano devices

3)

Development of chemical actuators and robots

4)

Development of soft actuators
MATSUHIRA, Nobuto / Professor
1)

Coexistence technology between human and robots

2)

Mechanism and control of robots

3)

Universal design with robots
YAMAMOTO, Sota / Professor
1)

Development of human mechanical simulation model for impact biomechanics

2)

Evaluation of the mechanism of hip fracture and fracture prevention

3)

Optimization of total hip replacement

4)

Evaluation of the mechanism of circulatory system desease
LOCATION
SUBWAY: 7 minutes walk from Toyosu station (Yurakucho-line), #3 Exit.
JR: 15 minutes walk from Ecchujima station (Keiyo-line), #2 Exit.
Toyosu Campus 4th FL. 04F30
3-7-5 Toyosu Koto-ku Tokyo, Japan
zip-code: 135-8548
CONTACT INFORMATION
If you have any questions, please contact us at the phone number or e-mail address below: